First Team & Team Kids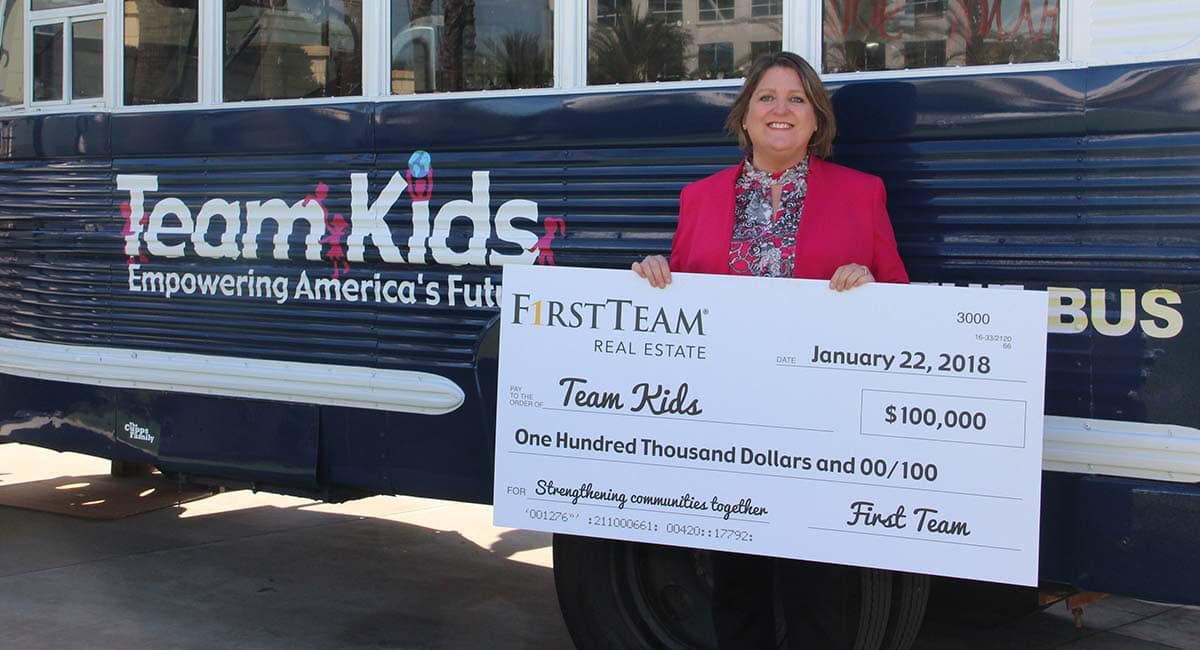 We share more than just 50% of our name with Team Kids, we share a vision for strengthening communities through service and compassion. As Team Kids Ambassadors, we're leading efforts to serve in our communities and fundraise for Team Kids.
Through our partnership with Team Kids —called the Team Kids Superhero Program—real estate agents serve as mentors to children in their communities, guiding them through various challenges that allow them to make a difference and earn recognition for it.
"Through the Superhero program, kids will be presented with challenges to complete, such as bringing blankets to an animal shelter or writing a thank you note to someone in the military," Hudash explained. "Once they complete these challenges, the real estate agents will present them with certificates thanking them for their contributions and for helping to make their own community a better place."
The Superhero Program, and our affiliation with Team Kids, is part of our organization's overarching mission to make a difference in the communities we call home.
Testimonials
" Chris is great. He understood our goals and worked together with us and the seller to make this usually stressful transaction go seamlessly. We are very happy with our home purchase and would recommend him to any prospective buyer in that area. "
- Karl Suh Sunyun Kim
" Already posted to Yelp and Zillow. "
- Andrew & Jennifer Lewis
" Chris was excellent throughout the process. Thank you. "
- Kanitha Porter
" Chris Merritt is the only realtor I have worked with and will be the only one I will work with. Chris has helped me sell 2 of my previous homes and helped me buy 2 homes. Chris is very professional, knowledgeable, patient, understanding, very responsive and has also helped tremendously by referring other services/companies that First Team Realtors have worked with. Buying or selling a home with Chris has always been a wonderful experience. I have always recommended Chris to friends and will always do so. Thank you so much Chris for everything you have done for us!! Mallika P. "
- Mallika Purohit
" I had such a great experience with Chris. He helped navigate the whole process smoothly and answered all questions quickly and efficiently. Would definitely recommend his service to a friend. "
- Joel Smith
" Already provided detailed testimonial on yelp. Please reference from there. "
- Andrew& Jennifer Lewis
" I just moved to Irvine from Switzerland and a colleague of mine introduced me to Chris. He has been outstanding! Deep knowledge of the area and of all the laws and rules to buy an house. Once I mentioned to him that I was new to this process in the US he spent incredible amount of time to  explain me first the process and all the steps. Then he started giving me recommendations on the best neighborhood and about pro and cons of each of them. Finally once I was ready he spent considerable time showing me houses and giving me tips and guidance during the process being available and prompt to reply to any question by email, phone and by person. Defineltly impressive, I will recommend him to all the people that will look for an house. "
- Domenico Campagnola
Previous
Next